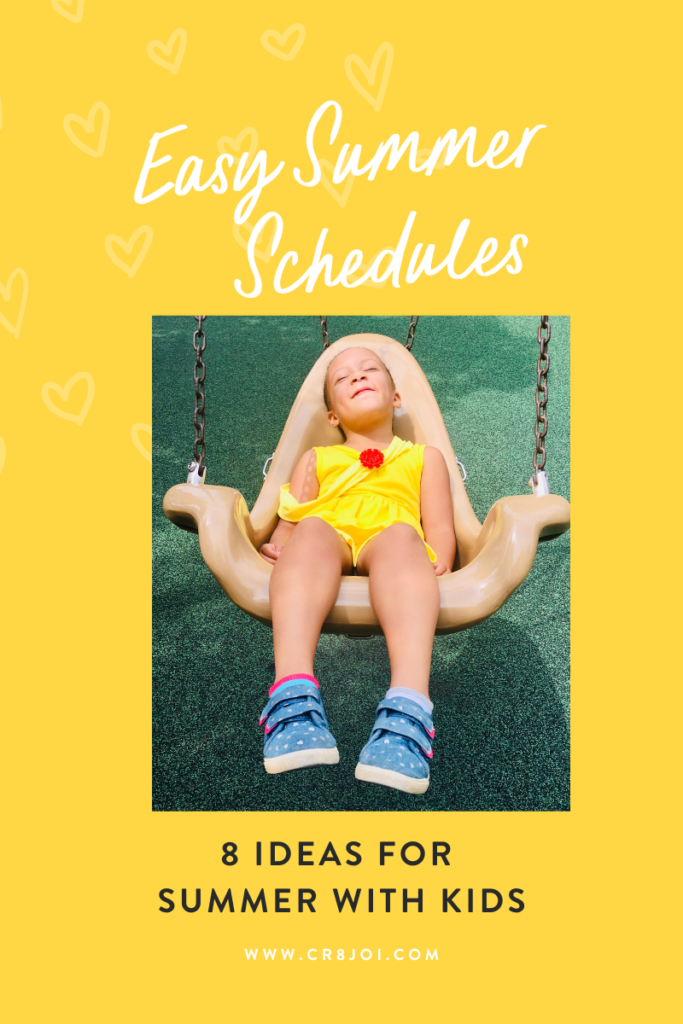 Let's talk about Easy Summer Schedules!
Why? BECAUSE we are going to have FUN, fun too this Summer!
When the kids are away at school or camp all day it's easy to feel overwhelmed when they are at home all day. It takes a minute to find your at-home flow again. That's totally normal! Don't you worry, we will be super ready for the people this year!
This is second post in The Cr8joi Summer Series. If you missed the first post in the series, GET READY FOR SUMMER, you can find it here.
One thing, I know from my career as an Educator + Mommyhood = these chiterlings need some level of structure. Children thrive on routine, 365. You can switch up the schedule to match the season.
The secret to managing children without a lot of stress is structure. Structure that comes in the form of a sketeton routine and/or schedule.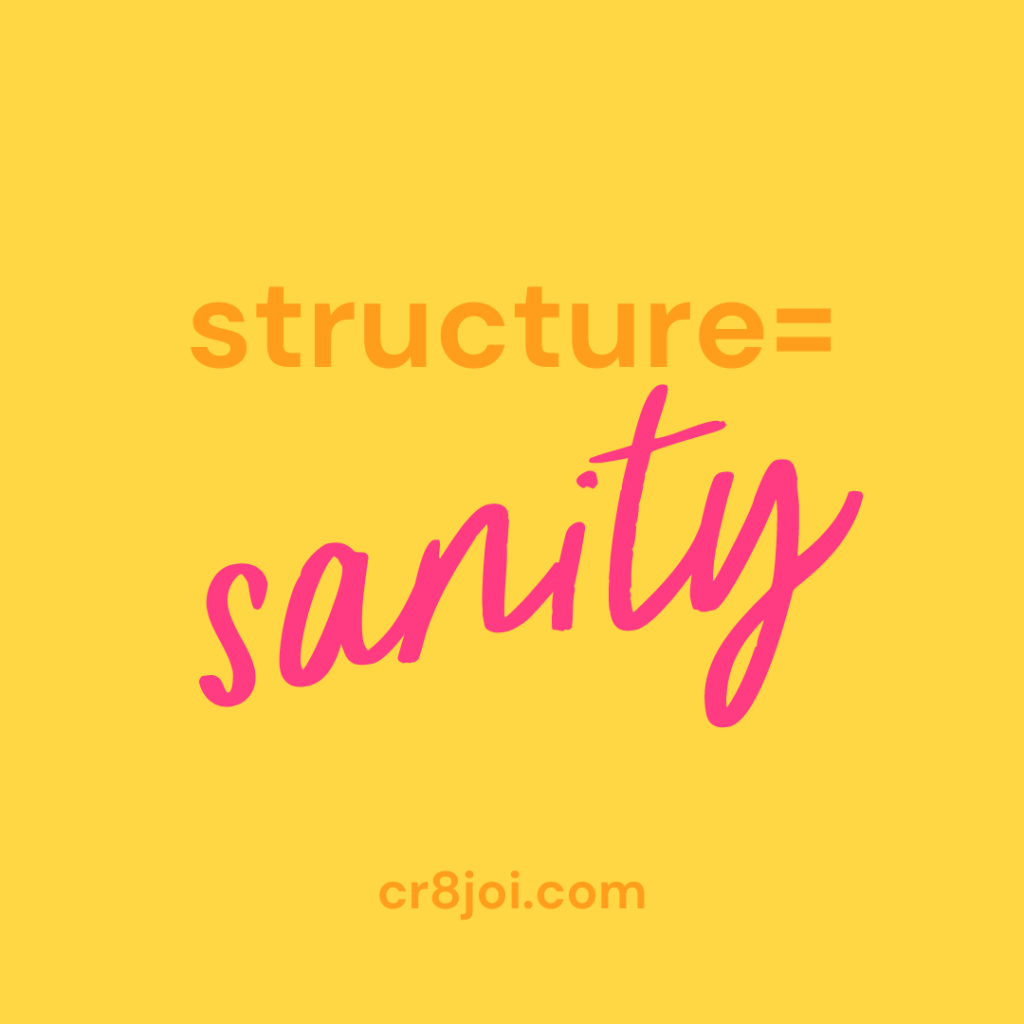 Structure means sanity for all, Mommy included!
If you are saying "OMG, Mrs. Cr8! It's Summer for goodness sakes!"
Just hear me all the way out.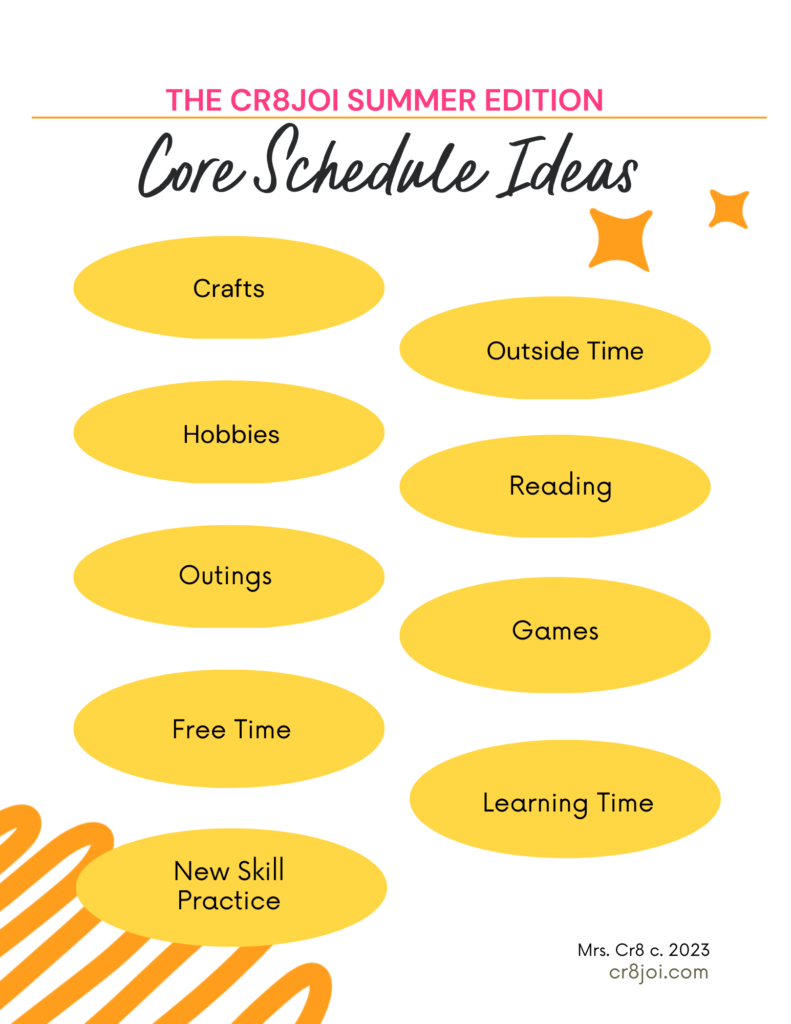 Here are 8 ideas to create your Easy Summer Schedule:
1. Craft Time
Place craft supplies in a tablecloth table or picnic style outside and LET THEM CR8! I think some parents get so caught up on the mess that they miss the beauty of creating. Don't worry if this stresses you out, that's what you have me for! Mrs. Cr8, the Mommy Teacher Expert, at your service! Let's goooooo!
Need more reasons why you should let the children create. Check this blog post.
Want to know how to create a craft cabinet/area) with a hot $20? Click here.
Want to see how to set up a craft cabinet/area? Click here.
2. Outside Time
Get ouuuuut! Summer weather is meant to be enjoyed! The beauty of warm weather is you can even enjoy a few rain drops. Block of daily time to spend some quality time outdoors. Or you can take a page out my Mommy's book, load up the cooler with drinks and a pack of hotdogs. Throw the buns and snacks on the top of the cooler and stay outside all day!
Take 15 minutes to round up all the outside things. You know the ones scattered in the garage, the ones that sneaked into the house. Put them in their proper home. Or make a new home with a bin or two in an accessible area. Have the kids help. They know where all their stuff is.
Get out the bike pump and inflate all the balls and bike wheels.
Check the perimeter of the house for insects, critters, and birds' nests. We want to be outside, not under attack!
Don't forget the sunblock! The end.
Click here for an example of a simple outdoor set-up for littles.
3. Learning Review
Chances are there is a Summer Learning Packet from the school. Or maybe there are a few things that you or your child's teacher noticed can use some extra practice time. Give it a few minutes a few days a week instead of a brutal looooong session and watch those skills improve.
If the school does not give out a Summer Learning Packet, here's what I recommend:
Summer Bridge Workbook: You can grab one off Amazon for about $10. They are usually in a one page front and back format. Depending on the grade level the book may include flashcards, spelling words, and even stickers + incentive charts. No need to reinvent the wheel.
Books to read at your child's independent reading level (If you do not know what this is, ask your child's teacher.) Free books are just a library run away.
Mrs. Cr8's Recommended Amount of Summer Learning Time By Grade
3 and under: 5-10 minutes
Pre-K: 5-15 minutes
K-1: 20-25 minutes
2-3: 30-40 minutes
4-5:45-: 60 minutes (broken into two 30 minutes sessions or three 20 minute sessions)
6-12: 60 minutes (broken into two 30 minutes sessions or three 20 minute sessions, a natural break in subject matter is preferred.)
Of course, every child learns differently and has varying attention spans. These times are generic. The learning needs of the child trump all.
MORE importantly, finding a way address any learning goals and/or gaps + keep the child engaged and wanting to learn over the Summer should be the main priority.
If you need more ideas on Preventing the Summer Slide, check out these blog posts:
Easy Ways To Implement Summer Learning At Home
If you want me to create a Summer Learning Plan, specifically for your child(ren) email me to book a call [email protected]. Why be overwhelmed when I can help you?!
4. Reading Time:
Make it simple Mommy! Pick one chunk of time everyday and designate that as reading time. What time of day are your nerves most frayed? When do you need a breather? That can be quiet reading time! But there are a few things you need to prepare ahead of time.
Books? Do you have books already? Are you buying new ones online or from a used bookstore.
High interest reading materials for each child in a bag or basket designated just for reading time. High interest means books the child finds interesting, NOT necessarily the parents. If they love video games, maybe gaming books. If they love fashion, then fashion icons it is! If you child loves facts, then the Guiness Book of Records is a winner! Finding a favorite or book series can go a long, long way! You don't have to pull teeth when the child is invested in what he/she is reading.
What about non-readers? Picture books and children's magazines are winners. Read along books with CD's and headphones are very entertaining for little people. There are also many online book services and online videos that will read to children. My advice it to only use those every now and then. If you want the children to enjoy reading printed materials then put physical books in their hands.
Technology is HEAVEN sent for Neuro-diverse children. Devices can read to or along with your child. Put these devices to work!
You already know what you child needs Mommy. You just need time to think it through.
Use a kitchen timer of your phone to block of Reading Time. Then stick to it. Remember DEAR time? Drop Everything and Read! Just do that at home. Everyone can read! Even you! Let's goooo!
Do you have a child who hates reading? You might find this post helpful-
Why Your Child Does Not Like to Read + What You Can Do About It
5. Game Time
Open up the game closet/cabinet. If you don't have one this Summer is a great time to pull all the games together in one spot. When I say games, I mean ol' school games, like cards and board games, not games like Nintendo or Roblox.
There's a time and a place for individual partner and group games. Games you play with, not screens.
Let's think of ol' school games in three categories- solo, partner, and group games. Here are a few examples to get your wheel's churning:
Solo Games: Solitare, Simon, Etch-A-Sketch, Rubik's Cube
Partner Games: Guess Who, Connect Four, Checkers, Chess, Jenga
Group Games: Life, PayDay, Monopoly, Pictionary, Uno
What difference does it make if a game is for an individual, partner, or group? Well it can help you A LOT Mommy!
Have you ever told the children, "GO PLAY A GAME!" Only to find them bickering and crying a few minutes later.
This is when knowing what's in your game arsenal comes in handy. If the siblings are bickering everyone can go to their respective spots and play a game. It's still game time! Or depending on your patience level, they might work through an earlier disagreement with a partner or group game. Maybe there's a playdate or a friend comes over and the kids are being awkward and need to warm up, whip out a partner game.
Check out this blog post if you need more non-screen ideas.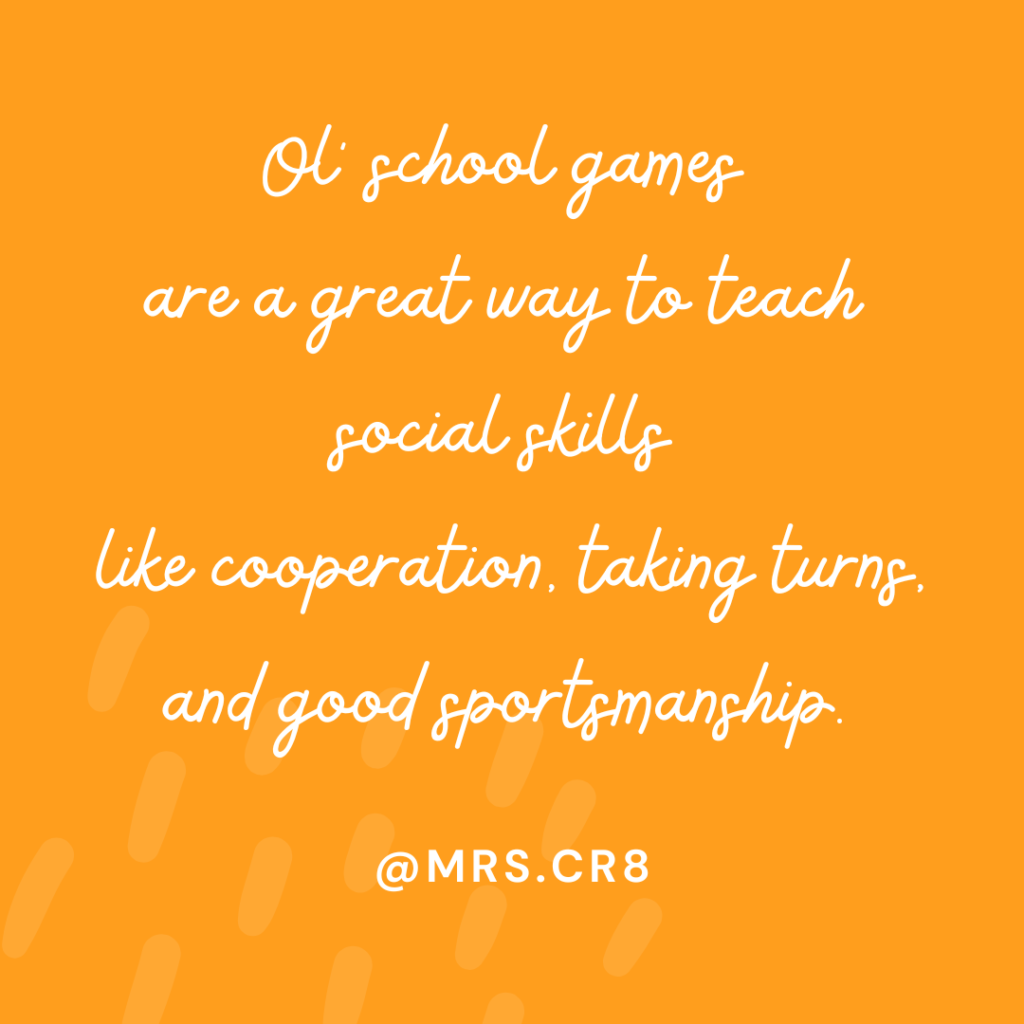 Make all the games in your game stash work to everyone's advantage, especially yours Mommy! 😉
6. Free Time
Free time, means just that! Time to just be free to do what you want! Free time is a chunk of unstructured time, let the children find their own things to get into. Share your exceptions and boundaries ahead of time to prevent any misunderstandings.
Establishing boundaries and expectations is an essential step because . . . KIDS!
Notice, the Core Schedule Ideas chart did not include SCREEN TIME. Free time is where screen time fits in. If the kids want to play on their devices and chat with friends, FREE TIME is THAT time!
The best thing about structuring free time this way is it creates a window of time for the screens. The children will find other things to occupy themselves without their devices during other parts of the day.
AND it makes the clock the bad guy, not you!
C'mon structure! Give them what they want and what they need!
7. Hobbies + New Skill Practice
Remember those intentions we talked about in the first post? Click here to catch up if you missed it.
Hobbies and learning new skills are great things to add to your list of Summer Intentions. To make the intention setting process even easier, I created a Reflection. Use this Reflection for each child and even yourself. There's something about putting pen to paper that makes things happen. Just click the graphic below for the Reflection printable.
Have the child write their own (if they are old enough). Maybe even save their Reflections over the years. Use in whatever way you find helpful.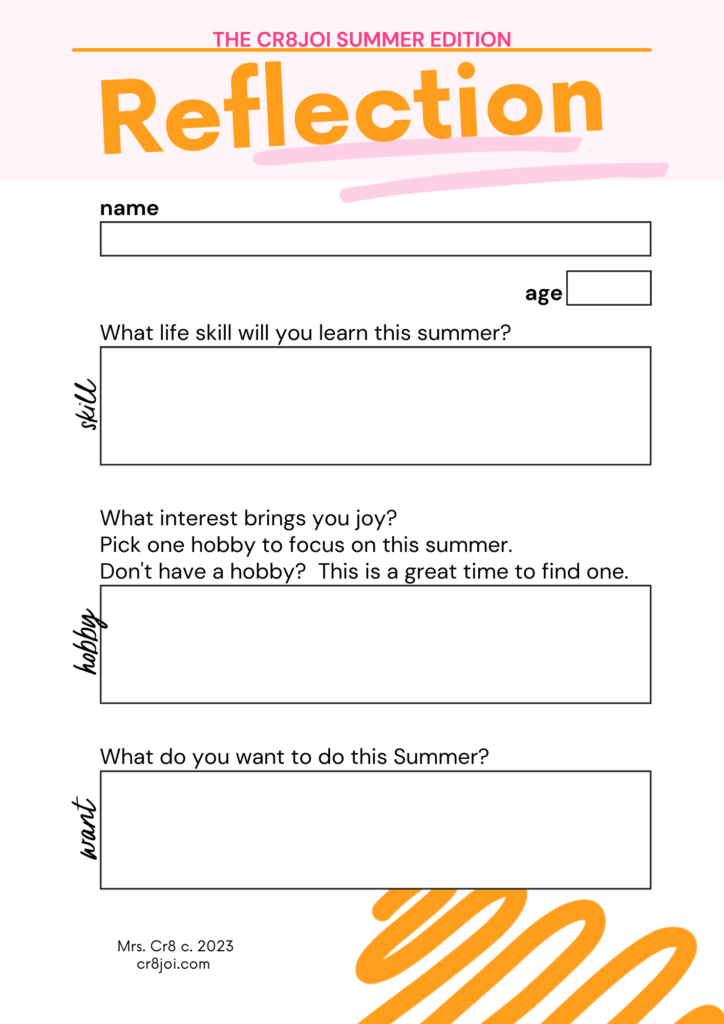 CLICK THE HERE FOR YOUR PRINTABLE REFLECTION.
Hobbies
The kids will be full of hobby ideas. If not, even more reason to get one started! You can find all kinds of extra-curricular classes on OUTSCHOOL. I'm almost certain somebody on there can help your child with their hobby, if you don't have time, patience, or expertise.
Here are a few seed ideas for skills. I suggest you and the child think of the skill together since the children will need your help. I'm pretty sure you have a very specific life skill comes to mind with each child.
Learning Life Skills
How to sew on a button
How to open and lock a door with a key
How to use a combination lock (Super important for incoming Middle Schoolers)
How to wipe PROPERLY (Please Lord)
How to clean out the the tub and/or shower
How to clean a toilet
How to cook scrambled eggs
How to vacuum and be proud of your vacuum lines
How to clip and file nails.
How to properly set the dinner table
How to clean the table and surfaces after a meal
How to pack a healthy lunch
How to properly brush teeth and floss
How to load and unload the dishwasher
How to wash a car
How to open the car hood
How to add windshield wiper fluid
How to take answer the phone professional phone call
How take a written phone message
How to wash clothes
How to fold clothes and put them away
How to take out the trash and keep the trash baskets clean
How to wash and brush hair
How to use a knife
How to write a check
How to make a deposit
How to pay a bill
How to make up the bed
I could go on forever but you get the idea! We are raising humans who will one day live on their own. We want them to thrive and be able to take care of themselves.
8. Get Out the House!
There will be so many places to go and see once school is out. But being out in the real world can get quite expensive, especially if you are headed out a few times a week.
I'll make it simple for you, these 3 places can #cr8joi for all summer-
The Library
The Park
The Pool

Think of these three places as your affordable Summer 3-step. 🙂
There you have it! Just plug and play these 8 core schedule ideas to create an Easy Summer Schedule for your family.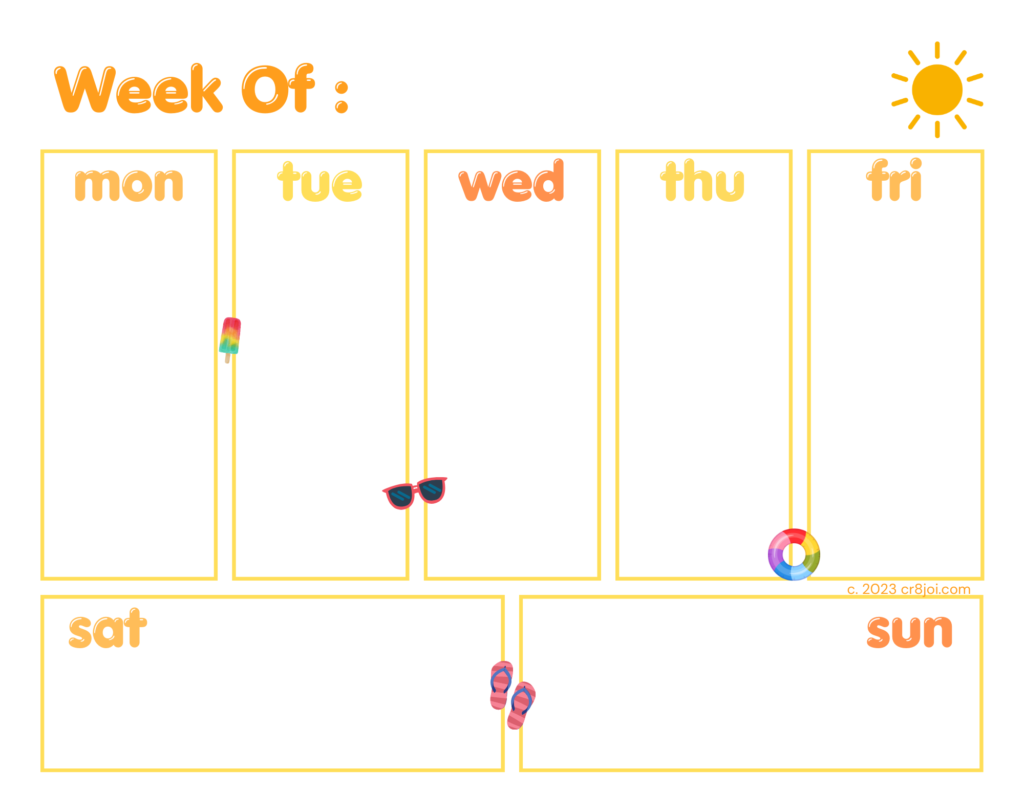 CLICK HERE FOR YOUR PRINTABLE SUMMER SCHEDULE
DON'T FORGET!
Plan for some G0-To Meals + Snacks: Something about school letting out, releases the children's stomachs. Check out this reel for the Summer Snack Set-Up.
If you are like me, something about Summer makes me NOT want to be tethered to the daggone kitchen. It's my summer too! Plot out a few Go-To Meals + Snacks to ease your Mom brain.
Weekly Treat: Everyone can look forward to a yummy treat. Think s'mores or ice-cream, maybe Saturday Mornings with special cereal (and crafts of course). Baking a new recipe or DIY popsicles. Let your creative hungry children lead the way on this one! Their sweet tooths will lead you to the weekly treat!