As the parent, you hold the key to setting a positive tone for your children's after-school experience. By providing the children with a welcoming and nurturing environment, you can make their return home more peaceful. In this blog post, I share 8 easy tips you can use to joyFULLY welcome the children home: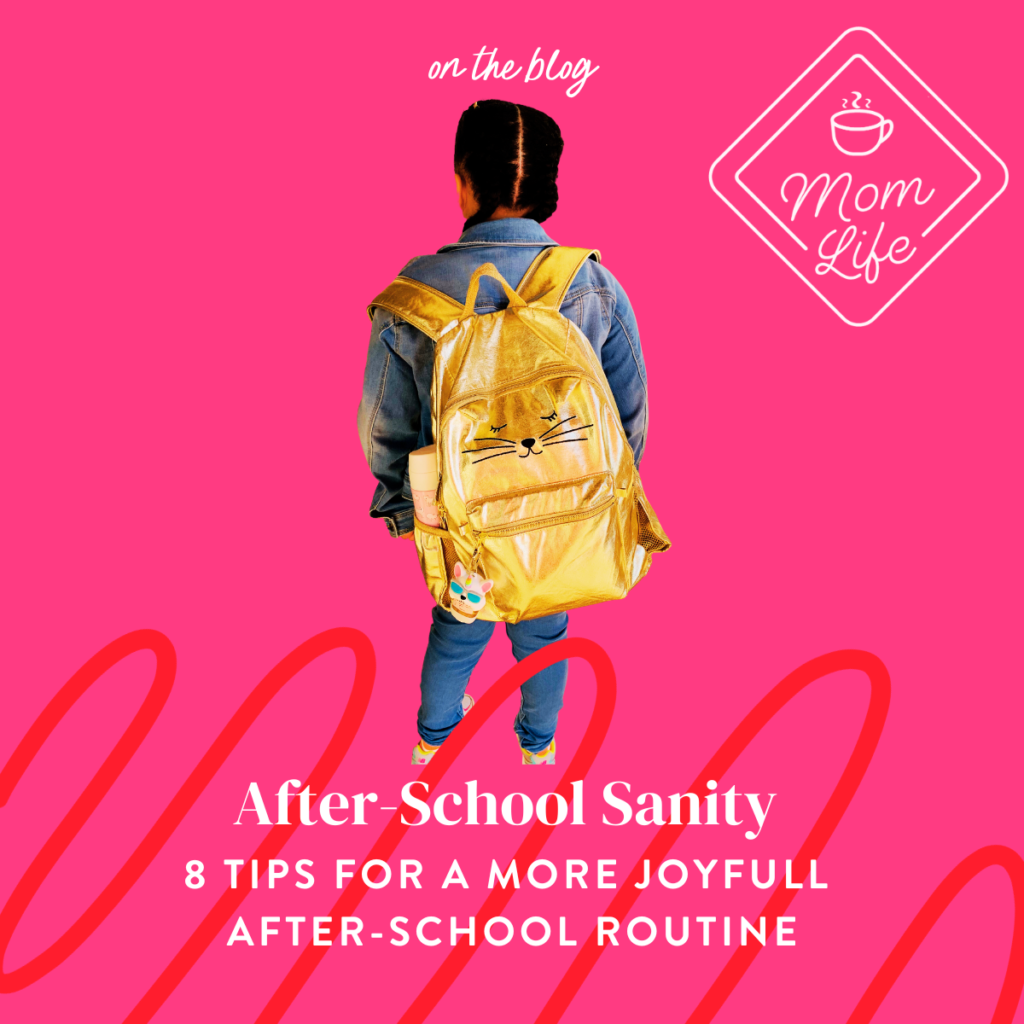 1. Refreshing Beverage for Every Season
Listen, the children are parched after-school! Overload a straw cup of water with water and an ignorant amount of ice. (If you're new here an ignorant amount= a ridiculous amount 🙂
Or, maybe try pedialyte packets. They are thirst quenching and make them feel like they are having something cool to pour into their water bottle.
When it's cold outside, something warm like an herbal tea, warm cider, or hot cocoa. Make the sweet drinks a treat. Maybe a new Friday tradition, perhaps? Hot drinks on any day that ends with day will surely seal your Mommy of the Year nomination.
The girl and I love special paper cups with lids. Sometimes I stumble upon them at my therapist Homegoods. They work great for special car cups + serve double duty on sick days (recycle those germs).
Here are some cute seasonal Halloween cups, Fall cups, Christmas cups, and Valentine's Day cups if you want to add some joy to your cup stash.
This thoughtful, yet simple gesture of an after-school beverage will not only physically refresh them but will instantly set the tone, reminding the children how much they are cared for.
2. Nourishing Healthy Snacks
The children are hangry. Hangry= acting out of sorts. Whether it's a pick-up line snack or upon arrival snickety snack, be prepared with something nourishing and healthy. This is essential if you want to maintain your nerves and groceries while preparing dinner. School stomachs wear off with that last bell, sheesh!
If you are running errands after-school or telling the kids to wait until dinner and can't figure out why they are acting nasty. Girl, they are hangry.
My top 3 Go-To Easy After-School Snacks
A whole piece of fruit (if I have time, I will cut it because sometimes that makes it better. idk)
Popcorn
A cheese stick + cracker (or pretzels)
I pair one of these snacks with a refreshing beverage. INSTANT JOY. Hangry episode diverted. The end.
3. Set the Mood with Music
Music is life! It's the soundtrack of life. You can set the mood with music Mommy!
Need peace + quiet: Blast classical, smooth jazz
Want them to stop arguing? Play a iconic artist or musical soundtrack they will sing along to. (Ideaas: Michael Jackson, Sergio Mendes, 60's Soul Music, 80's classics, The Greatest Showman, or Hamilton). Expose them.
Where is your car playlist?
Create a car playlist that has a jam for everyone. Here's my Cr8joi Mommy Playlist if you need one.
(The Queen Charlotte soundtrack has been decompressing me as much as my child this month!)
My Daddy was the KING of blasting music. My diverse love for music comes from years of riding shot gun to music. I now know Daddy wasn't just enjoying his jams but setting the tone with music (and getting a break from my motor mouth).
Stop playing and set the mood with music!!!! Blast 'um girl!
4. Respect Their Need to Unwind
Give your children space to unwind after school without pressing them for details about their day. It's often better to let them relax and approach the topic when they're ready to share. Trust me, they will spill the beans before long.
Create one-on-one opportunities for your child to be with you. Create room for conversation. They will share more as they settle. in.
Keep your questions light + specific allowing them take the lead.
5. Mix Must-Do's with Fun Activities
Balance essential tasks and responsibilities with some FUN, fun activities. Break up homework into digestible chunks. Create stopping points and sprinkle in a something they want to do. Depending on the age of the child and the amount of homework this will vary.
Unpopular opinion: Making a child sit still and do homework at the kitchen table until it's done is so 1982. We've evolved.
If that's what you've been doing, that's okay. You can readjust.
As my Papa Ed used to say "You catch more flies with honey than you do with vinegar."
It's time to mix it up + praise them up. See how much more they accomplish with a lil' FUN, fun mixed in.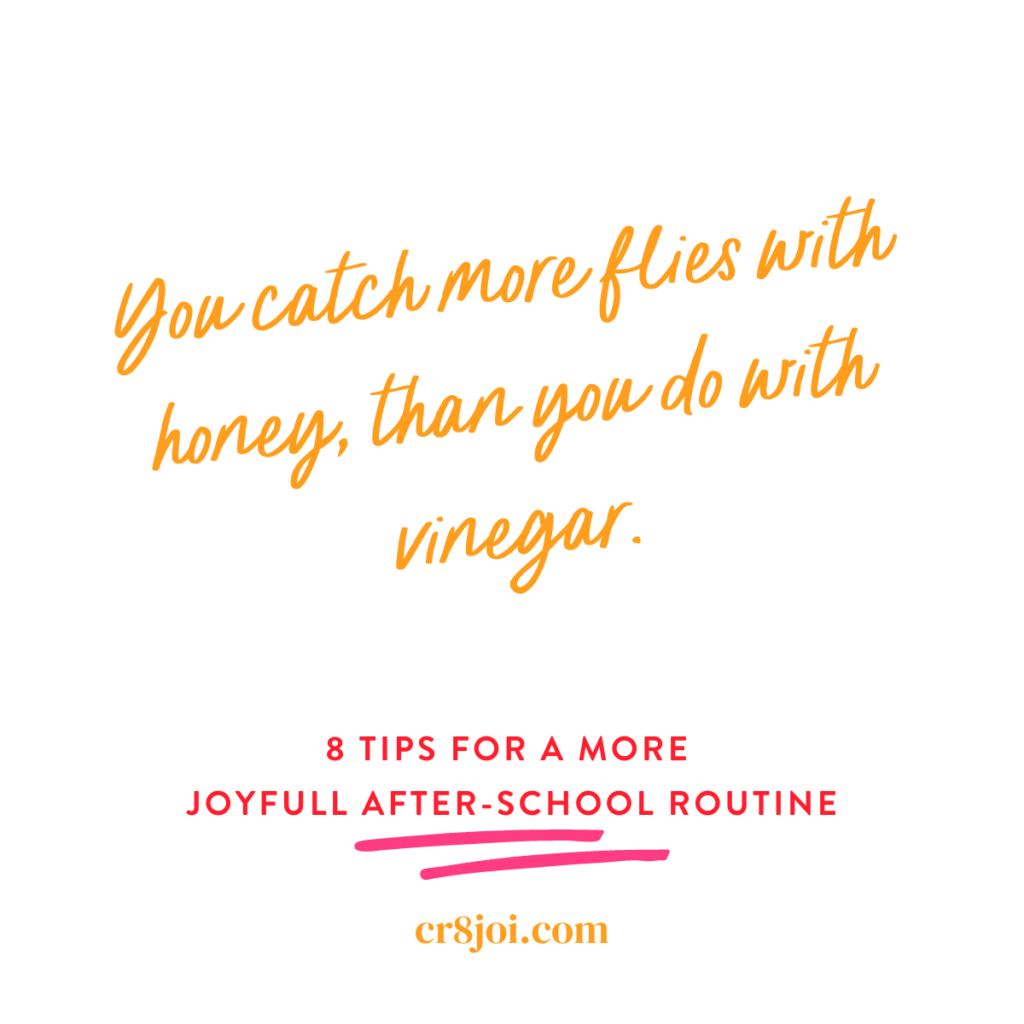 6. Create Evening White Space
Ensure there's some unstructured "white space" in the evening schedule. This allows your children to decompress, read a book, or engage in quiet activities of their choice. Chill time is a critical part of maintaining a healthy balance for kids. It's critical for YOU too Mommy!
Parent Homework:
Round up chill time materials for everyone. The children can help.
A simple basket of library books can do the trick. If you subscribe to magazines for the children, throw those in there too.
Round up the annoying fidgets. They can have fight or pop it time in room with their fave music on low.
Legos + Puzzle time might be your new best friend.
Teach your child how to play Solitaire with real cards (not online).
Turn the lights down low. Light a candle. Say "Chill time" with clapper hands + enjoy the joyFULLness of peace.
Need ideas of what to do without screens? Check this out.
Extra Credit:
Remember all that stuff you signed up for in August? Take a beat to review the school + schedule commitments. Is there anything that needs to be readjusted? It's okay to just say NO + let something go if need be. Extra-curriculars are important. But not more important than everyone's sanity. (Whispers: Just say'n.)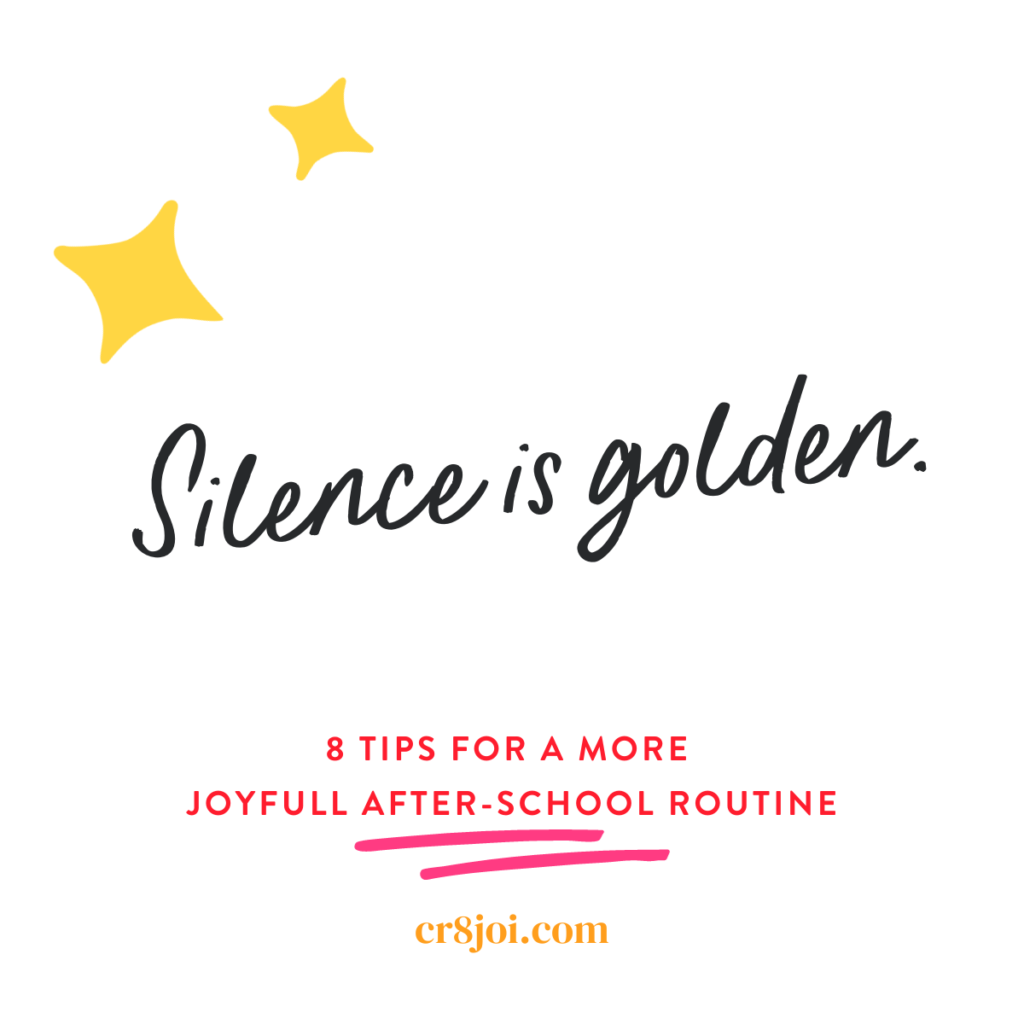 7. Encourage Physical Activity
Include physical activity as part of the after-school routine. Let them 'wild' out! They have been asked to sit and listen attentively all day.
Let them be free to jump, roll, or do whatever silly things they need to do after-school.
Physical movement can help your children release pent-up energy and promote overall well-being.
8. Foster Independence
Create simple routines to help your children to take charge of certain responsibilities, like packing their school bags or choosing their outfits for the next day.
Fostering independence instills a sense of accomplishment and self-reliance.
Make To Do List's or tasks on Post-It's the bad guy. (Example: Leave a post-it note on the iPad. (It can say- Before game time put your laundry away. Happy Face.).
I love this daily checklist for kids.
Use the timer on Alexa, their tablets, your phone, the microwave, or oven. Take your pick! Here's my favorite elapsed timer.
You don't have to nag. Teach them what you want them to do and how to do it. Once they know what's expected of them, watch them rise to the occasion.
Here's to more joyFULL afternoons!
By incorporating these eight thoughtful practices into your after-school routine, you can create a welcoming and joyFULL atmosphere for your children when they return home from school. Remember that a balance of relaxation, nourishment, fun, and independence will help them feel loved, supported, and more eager to engage with their family and education.
Home is their safe place. You are their home in human form. I pray this 8 Tips for a More JoyFULL After-School Routine, helps you feel empowered. You've got this Mommy!
Let me know in the comments which of these tips you will use. Feel free to share your after-school Mommy wisdom in the comments too.
{If you need more help and would like me create a customized after-school plan and routines for your family. I'm just an email away.}