If you are reading this post then you are probably seeking a little Easter Basket inspiration.
Well, look no further. Never fear Mrs. Cr8 is here to inspire you, while keeping your budget in check. (That was so corny! Blame my second cup of coffee!)
Anywho, here's my secret sauce to making the perfect DIY Easter Basket on a dime!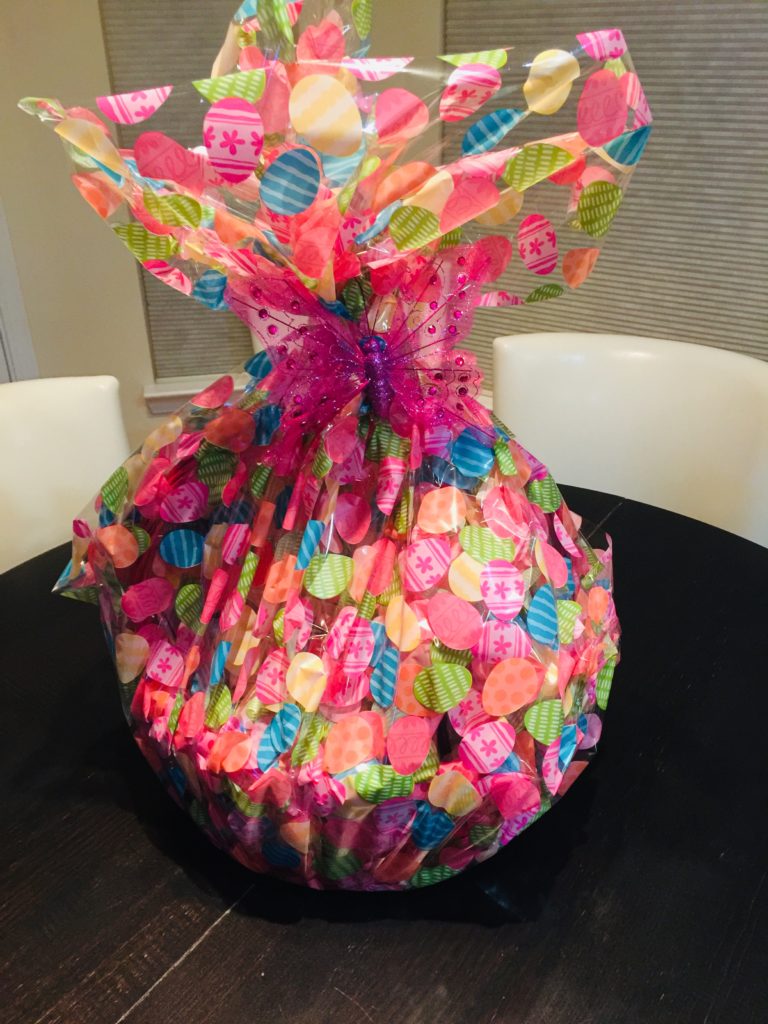 1. Start Early
The early bird gets the worm and all the cute stuff before it gets picked over. Try shopping a few weeks before Easter and you may actually enjoy the creating process.
When you are ahead of the ball, you have choices and time to choose and curate your selections.
Although we've all been there, it's so annoying to pay $35 for a basket full of pre-packaged junk on the night before Easter.
2. Re-Use the Easter Basket
Invest in a good basket not a cheapie (if you can) and re-use that bad boy.
Since the Easter bunny is for the Littles you can usually get away with saying something like "Wow that Easter bunny is so smart! He found your old basket and filled it with goodies. He's so fast!"
When in reality you loaded up the Easter basket and flung it in a black trash bag, in the scary corner of the basement months before. (This will be me! I'm trash bagging it until the wheels fall off!)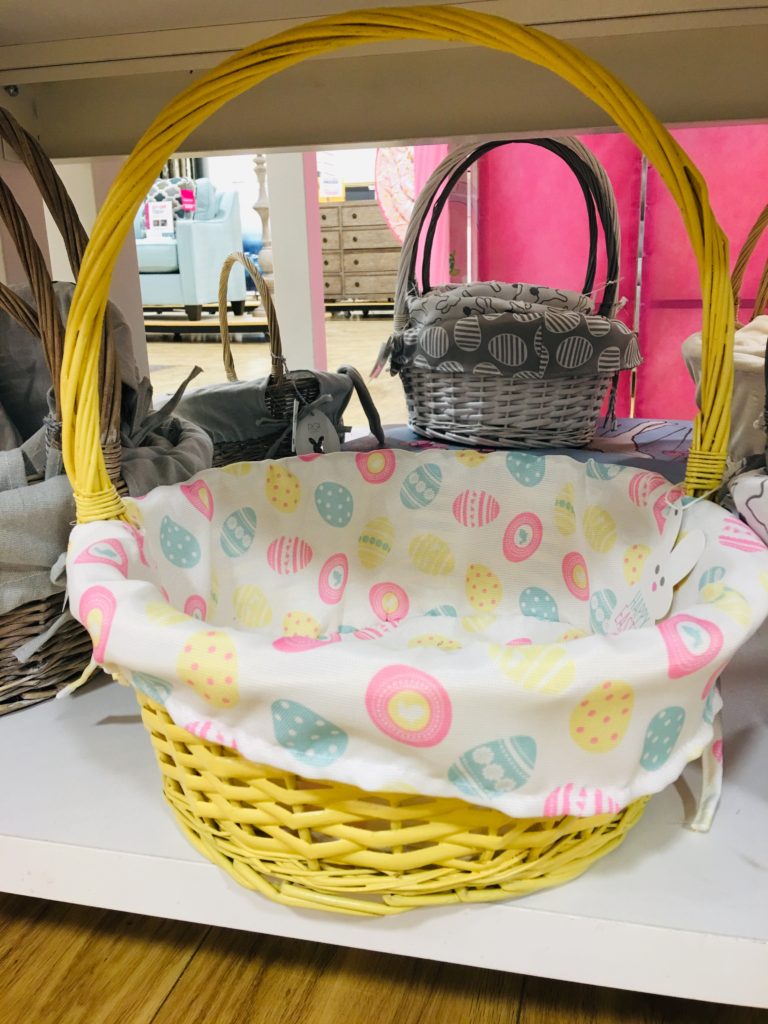 Or, you can can incorporate the basket into your Easter traditions. Tell the children that you got an email from the Easter bunny and he wants all the children to leave him a basket full of eggs.
If you like the excitement of doing things on the eve before, this will be right up your alley. That night, when the children are asleep, pull out all your Easter goodies and fill up the Easter Basket.
If your children are big, they won't care much about the basket, just the goodies inside the basket.
I mean, how many Easter Baskets does a child need? Just think about it. Every year these trashed Easter baskets are filling up landfills.
But a nice basket, can be re-used and hopefully re-purposed for something throughout the year too.
My fave store to find cute Easter baskets is HomeGoods. They have beautiful baskets that are lined in fabric that will last a few years.
Homegoods' Easter baskets range from $10 – $15. You can also try to hit up Dollar General. They have fabric lined baskets too. But again, you need to snatch these babies up early before the pickings get slim.
3. Pick a Theme or Color
If the kid loves Spider-Man roll with that. Unicorns? Great! Uni it up!
Don't overthink this.
Just pick a theme or color and it will look like tried harder than you did.
Sticking with a theme will help you curate the items that will go in your Easter basket.
Buy one tiny themed trinket to attach the outside of the basket and you will really seem like you are doing it big!
4. Go light on the Candy
Yep. I said it.
Go light on the candy. Save your money and nerves.
I buy jelly beans and one chocolate bunny. I fill a few plastic eggs with 2-3 jelly beans each.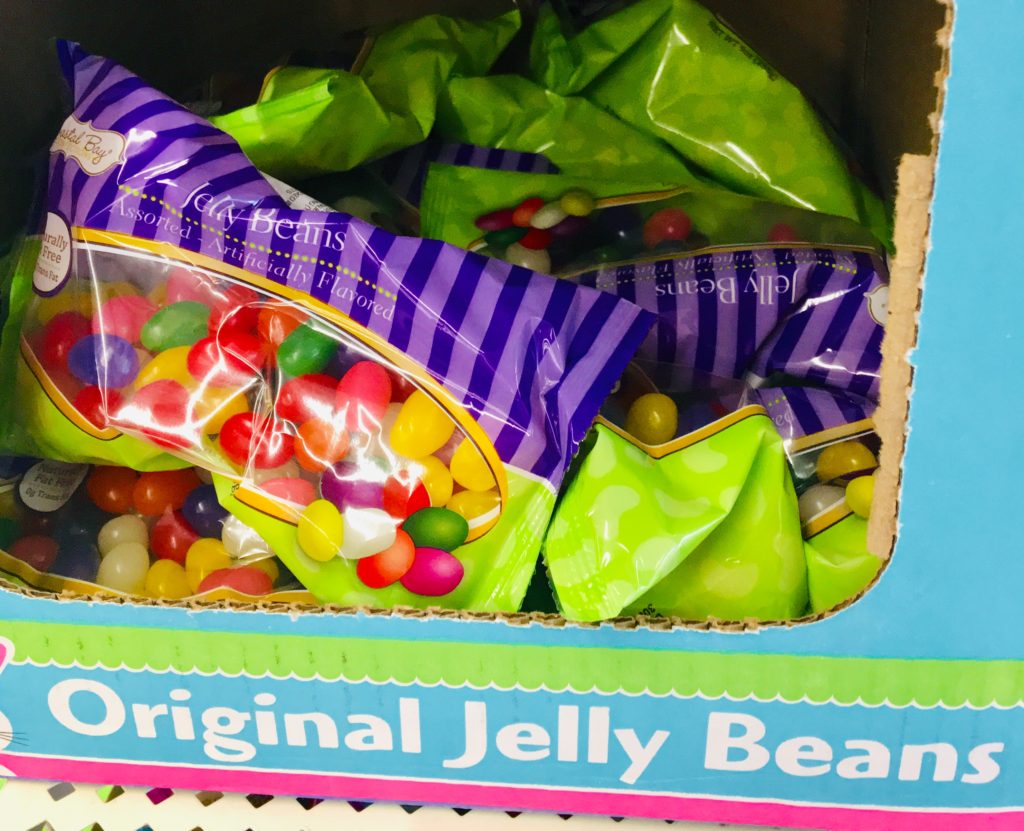 (I use more jelly beans the morning of, I'll explain how at the end of this post.) The chocolate bunny is the star of the show. (Does anybody else eat the ears first?)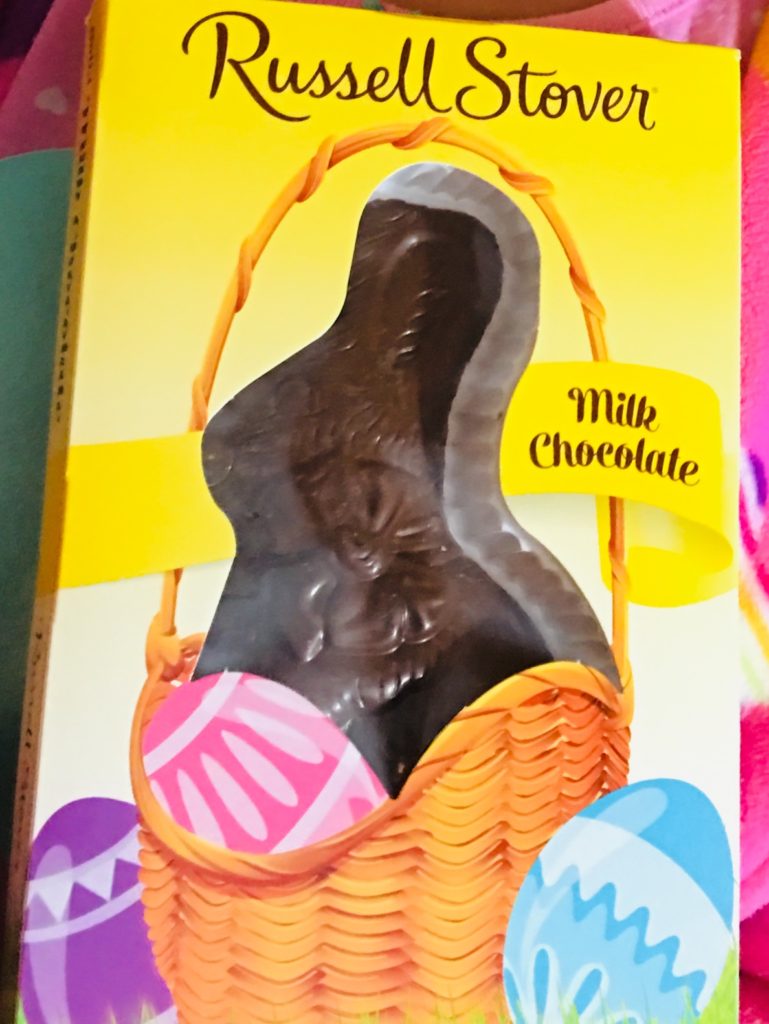 The girl gets one day of sugar overload with the jelly beans and it's over. I don't have to hide the candy or spend the next few weeks doling it out.
My fave stores for the candy trinkets are Dollar Tree Or Dollar General. Both will carry the chocolate bunny, jelly beans, and plastic eggs.
Walmart and Dollar General tend to have a lot of reasonably priced fillers and toys. Target Dollar Spot and Michaels also have trinkets.
The earlier you start gathering the better the better the finds and the deals.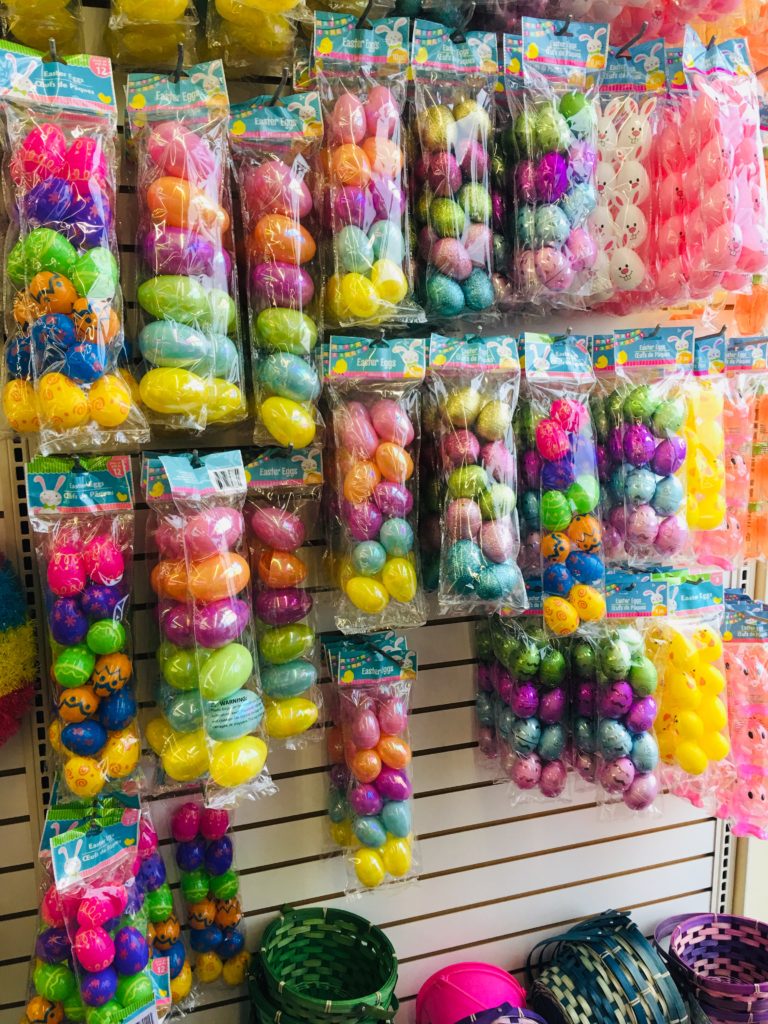 5. Buy a Cute Stuffed Bunny
If you can find bunny to match your color or theme, even better. Personally, I'm obsessed with the bunnies at HomeGoods. (I know, here I go with HomeGoods again, but for real.)
HomeGoods has stuffed bunnies range from $12.99-$14.99.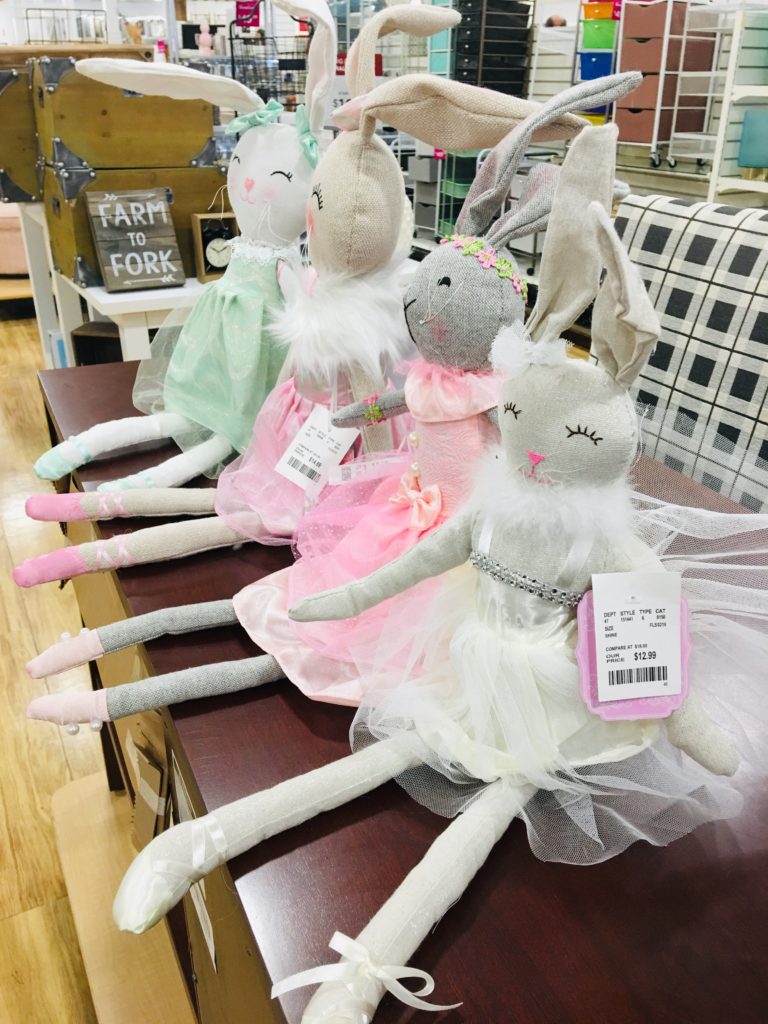 The bunnies come in male and female characters of all fur tones with the cutest little outfits. (Yep, I said fur tones.) If your child could care less about a bunny get one from the dollar store. Buy a trinket Bunny from the dollar store and add a gift card or cash for the Bigs. The end.
But, if you think your child will appreciate it, go ahead and make the effort to get one of the special bunnies from HomeGoods. I mean, how cute are they?!
6. Pass on the Grass
Guess what?! You don't have to clean up fake grass for a month. I'm giving you permission to skip the grass! You don't have to do it! Skip the mess. Use tissue paper or nothing at all! Personally, I like to use cellophane and ribbon to wrap the basket.
The girl doesn't miss the grass and I don't miss the mess. For the cellophane I recommend Dollar Tree. But you can't be a last minute shopper because the cute Easter cellophane will sell out. You will need to grab 2 rolls for a larger basket.
You should also grab a roll or two of Easter ribbon to tie up the cellophane. One roll will generously tie up two baskets.
But if you have Easter love for the grass and it will cr8joi for you, get it. Do what brings you joy!
7. Buy an Easter Book
The book will depend on your budget, child's age, and preferences. You can go as cheap as a Dollar Store coloring book or buy a real Easter book that can be read for years to come. If you are super ahead of the game, order a spring or Easter themed book through a Scholastic Book order. Don't overthink the book, just grab one in your travels. Buy a board book for babies. If you are making a basket for older kids, then grab a magazine or Young Adult novel. Or stay on Easter and shop at your church's bookstore, Hobby Lobby, or Amazon to find a Bible or Teen Devotional that will help cultivate your child's faith.
That's it! Thats all you need to make the cutest little DIY basket in town!
Grab your free DIY Easter Basket Shopping List at the end of this post.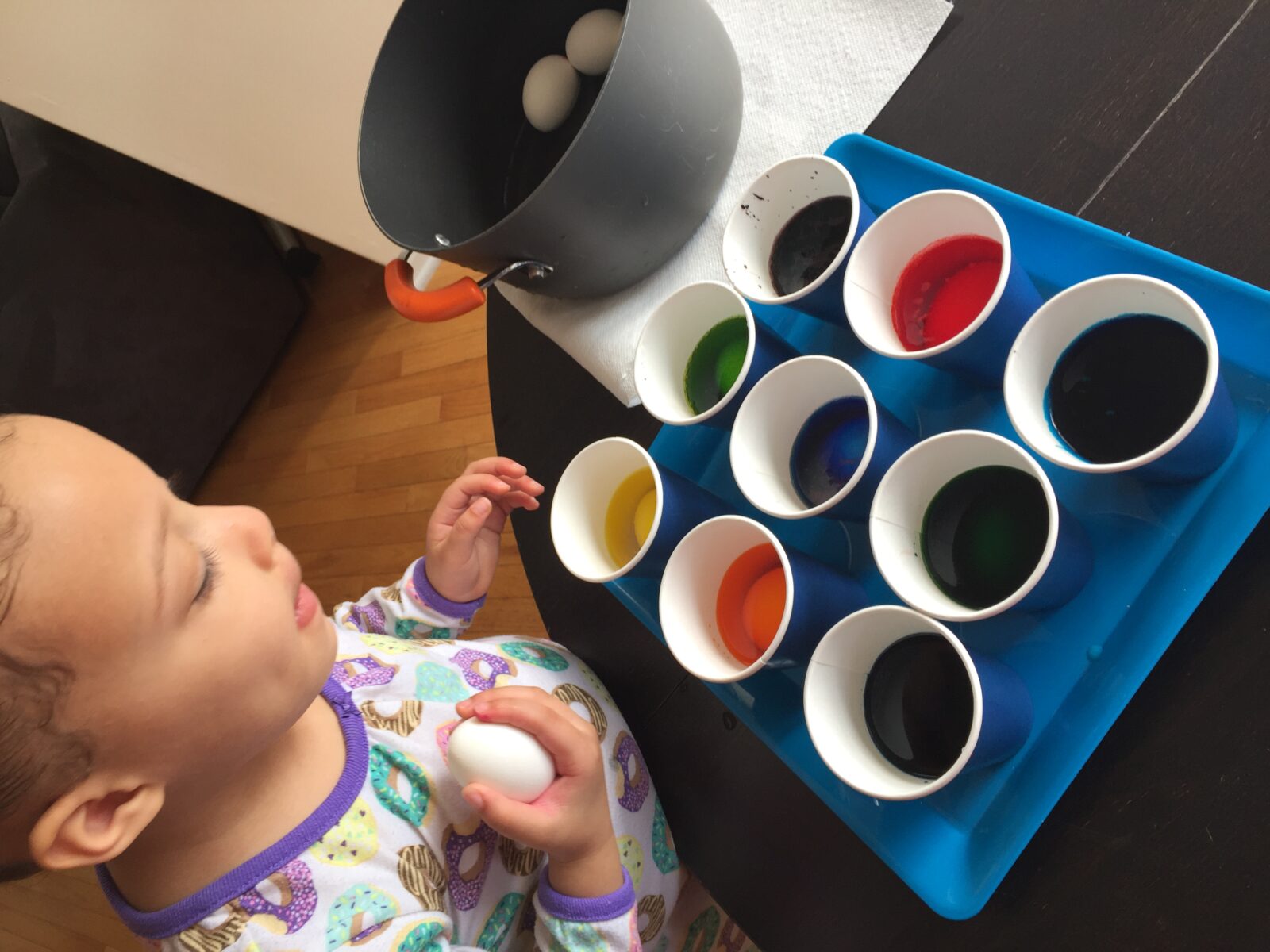 Just throw in your own Easter traditions and you are in business.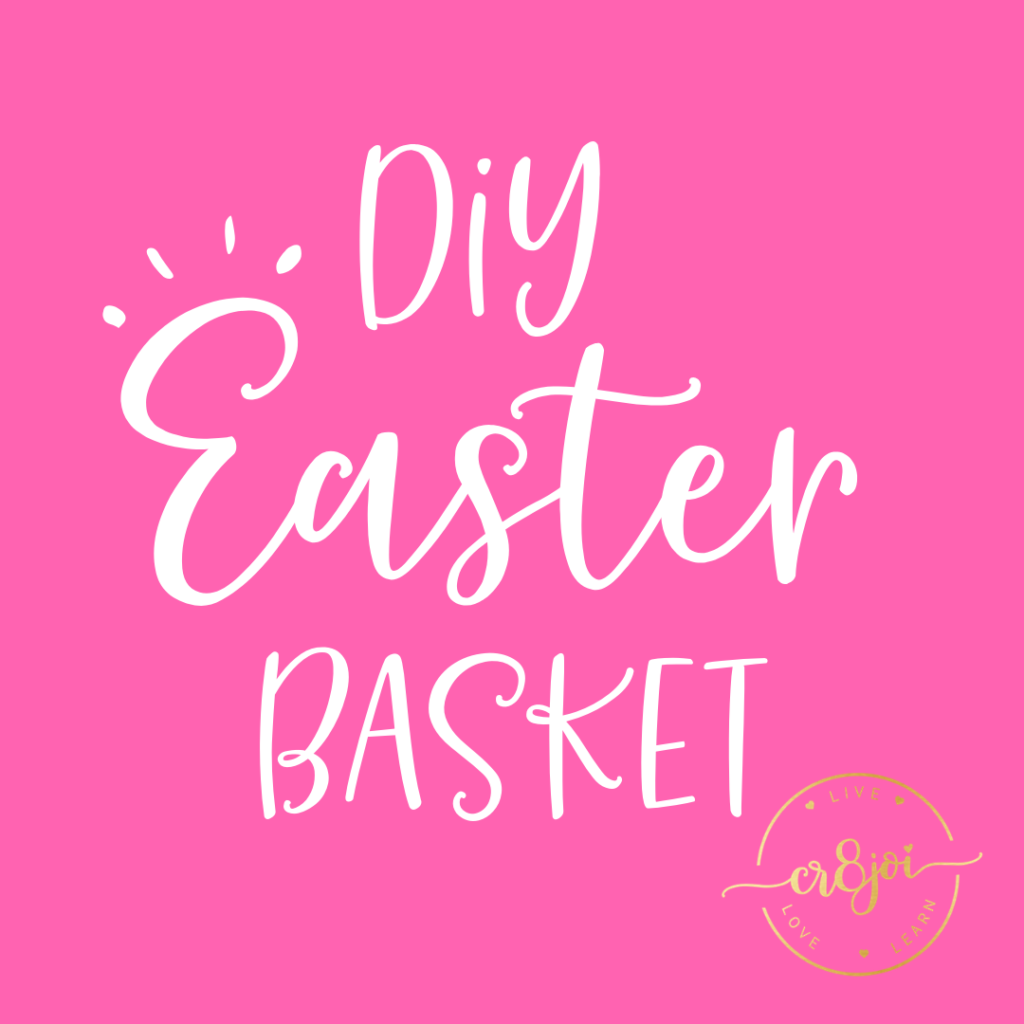 Click here to get your free DIY Easter Basket Shopping List.
Hopefully, you are now inspired to create your own DIY Easter Basket and maybe a few new Easter traditions.
Are you creating a new holiday tradition this year?
How do you "Easter Basket"?