Before I jump in, I have a funny story to tell you. A few weeks ago, hubs came home from an errand and proclaimed "we need to step up our porch decorations."
I had to do a double take? Was he encouraging ME, to decorate?
On his way home that day, he noticed a lot of fun fall porch decor around our neighborhood. (Although he won't admit it, he's competitive.)
Mind you, we have two giant tubbies of Halloween and Thanksgiving decor in the basement. None of which are coordinated necessarily, just a collection of holiday items I've collected over the years.
What I heard was "RUN TO HOMEGOODS! Get whatever you need to make our porch fantastic." Who can relate?
1. Theme or Color
Pumpkins, leaves, Halloween, spooky things, Thanksgiving, classic, a special color, or hodge podge (aka put everything you have for the fall season out). . . what is your main theme or color? Before you begin, think about the big picture! This will help guide the rest of your decoration process.
2. Feature Item
Select one or two items that will be your show-stopping feature items. In my case, the faux Pumpkin Spice Latte machine is the feature. I made all my design choices around this fantastic Homegoods find. Think of the feature item as your centerpiece.

3. Rug it Up
You know that double-up rug trend that's been floating around Pinterest? It really does make a statement.
A small door mat on top of a larger rug situation really adds dimension to your doorway.
I decided to go big or go home with this bold, black and white striped plastic mat. Yes, I said plastic! I was worried that the regular rug would only make it through one crazy Michigan weather season. So I was excited to find this indoor outdoor mat with spunky stripes.
I found both my rugs on Amazon, delivered contactless during Covid to the door for the win!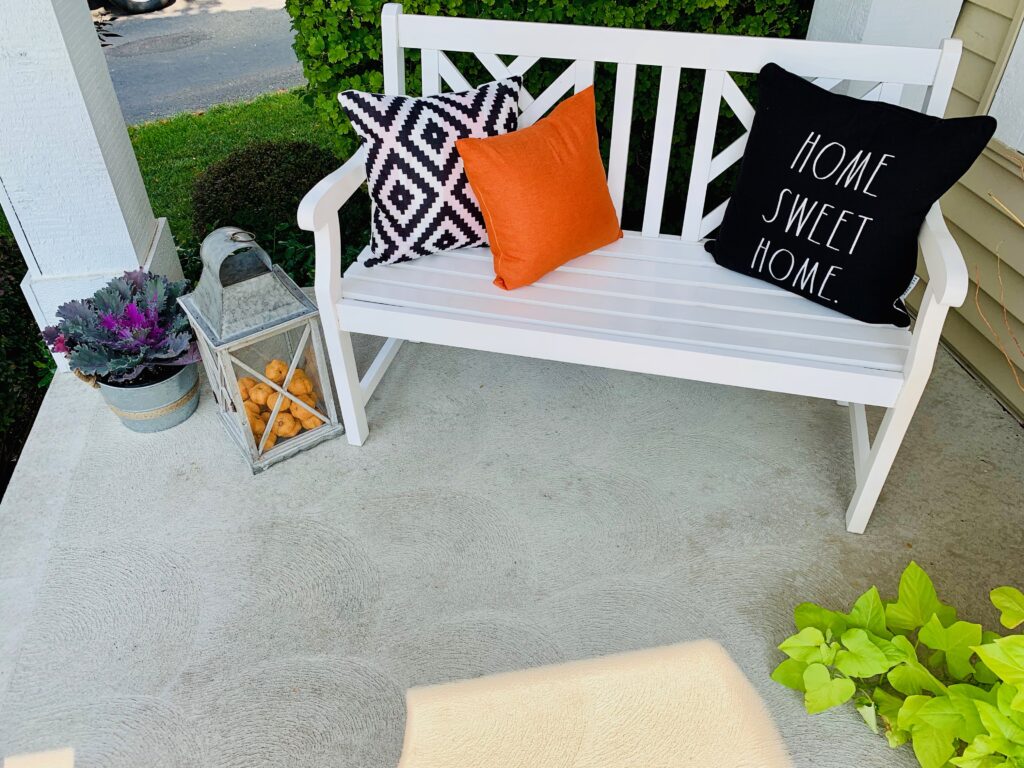 4. Pillows
If you have room for any form of a seating area, grab some pillows. You can change the pillow covers out for a small cost. They usually run $5-10 per cover and the best part is you can wash and reuse them for years to come.
Pillows can add a pop of color and pull in your theme.
5. Pumpkins + Fall Plants
If you are decorating for fall then, you've gotta have some pumpkins for fall porch decor. Pumpkin is the mascot of the season! Pairing pumpkins with fall foliage like Mums and other seasonal plants, will really bring your fall front porch decor together.
This purple plant was the perfect addition to my existing porch pot. (I still don't know the name of, lol. Please let me know the name of it if you know in the comments.) I simply removed my summer geraniums and added it to the sweet potato vine and waaaa-lah! The sweet potato vine will last until it really gets cold here in Michigan.
If you are feeling fancy you can add some seasonal sticks to your pots for added height and interest. My sticks are from Homegoods (and this is their 2nd or 3rd season).
So you see, with just a few elements our fall front porch decor came together VERY easily! Let me know in the comments, if you are decorating your front porch this fall. Which elements will you incorporate?