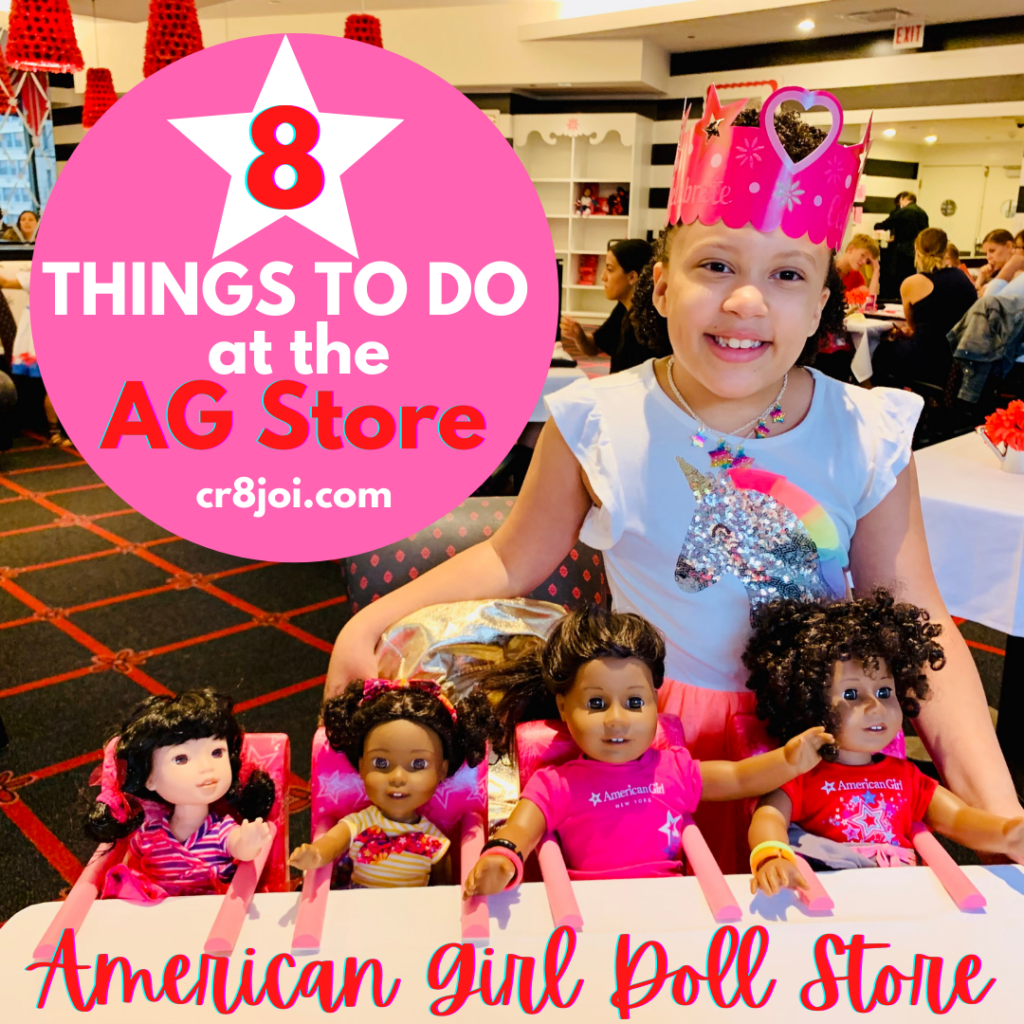 The first time I ever stepped into an American Girl Doll Store, I was 5 1/2 months pregnant with the girl.
In case you wondered why she is doll obsessed!
Hubs and I took a long weekend to New York to enjoy our time before the baby came. That weekend I suddenly felt super swole and pregnant, buttons were literally popping off my coat everywhere we went.
But I was so happy. The first trimester sickness was finally over and my belly was growing. I was slowing growing less scared. When you've had miscarriages after hearing the heartbeat, the pregnancies that follow take on a new level of worry.
Our long list of NYC sights included many things, among them a special trip to the American Girl Store. And so it began . . .
Since the girl has been born, we have visited the American Girl stores in Chicago and New York. If you follow me on Instagram you already know that the girl AND her dolls are living their best life.
We are very passionate about 18 inch dolls around here, so you can take all our #dolljoy tips to heart!
Trust me, visit to the American Girl Doll Store is worth the trip!
Here are 8 things to do at the American Girl Store:
1. Take it all in.
Walk all the floors BEFORE buying anything. Push all the buttons on the interactive displays. Soak in the level of detail in this magical doll world. They have everything humans have, from trendy clothes to bowling alleys. Take in all the things.
2. Buy a book or two.
There are so many dolls and matching character books to choose from. This last trip I feel in live with the BODY book and journal. Right in time for an 8 year old. They have body books for girls and boys. I love that there are editions for younger and older children too.
3. Have lunch in the cafe if you have time.
The napkin rings are bow bandies! There are doll chairs for the doll babies and a kid-friendly menu. If you are celebrating a special occasion or birthday you can book ahead online. They have the cutest little packages and cake!
YT Video
We had an amazing time celebrating the girl's 8th birthday at the American Girl Doll Store Chicago. Check out this video watch the big 8 adventure. Eight is really great!
4. Get a catalog so you can relive the experience when you get home.
I'm ol' school, so I love encouraging children to read and cut up magazines. The AG catalog is perfect for crafting paper dolls. So perfect for imaginative play. (Disclaimer: The girl rarely cuts her catalogs. They are torn, tattered, and restapled in a plastic portfolio, with a label from my label maker that she begged for. Who's child is this?)
5. Give the child some money to spend see how well they can add and budget.
Personally, I think $10-$20 of their own hard earned money is an ideal way to teach money appreciation. It's funny to see how fast, they put things back when it's coming out of their own pocket!
6. Selfie it up!
The store displays make for perfect backdrops. Save some storage so you can take lots of pics with the interactive displays. It's fun to compare pictures from different trips as the child grows. Why must they grow so fast.
7. Get inspired!
The doll vignettes make me want to go home and organize my real house. But they certainly inspired Lil Miss Cr8 to come home and redecorate the dollhouse that night! The AG store is doll life goals.
8. Buy a doll to commemorate the trip if you can.
That doll will forever hold the memories of that trip.
Have you ever been to an American Doll Store?
If so, what did you enjoy most?