If you are looking for the perfect no bake pie, this is it! My Mommy, Penny, used to make this pie all the time for summer BBQ's. It was always a hit!
I thought I would share this easy no bake pie recipe to bring a lil' joy to your summer too!
I've said this before, but I'll say it again. I am not a food content creator. I am just a good cook.
Penny's Pie is a great recipe to make with the kiddos too. They can practice following directions while honing their mixing and cutting skills. This recipe is perfect for little taste testers. So, round up your minis, clean those hands, and get ready for Penny's Pie.

Utensils:
Knife
Cutting Board
Mixing Bowl
Spoon
Spatula
Ingredients:
Graham Cracker Crust
Pistachio Pudding
Cool Whip (regular container)
Crushed Pineapples (small can/strained)
Strawberries (pretty ones)
Ripe Banana (1-2 depending on your taste)
Directions:
In a mixing bowl, combine the container of Cool Whip, the pistachio pudding packet, and crushed pineapples. Scoop the pineapples out without the juice as best you can. (Let the Cool Whip defrost a bit ahead of time so it's not lumpy. If it's not completely defrosted, don't worry just stir them out. Unfrozen Cool Whip is ideal.)
Slice the banana and line the bottom of the pie tin.
Fill the pie crust with the mixture, using the back of the spoon to fill the pie out.
Slice the strawberries vertically and equally.
Arrange the strawberries in a pretty pattern on top of the pie.
Chill the pie in the refrigerator for an hour if you have the patience!
Give the taste testers the green light to lick the spoon and spatula while everyone cleans up and waits.
Slice and enjoy!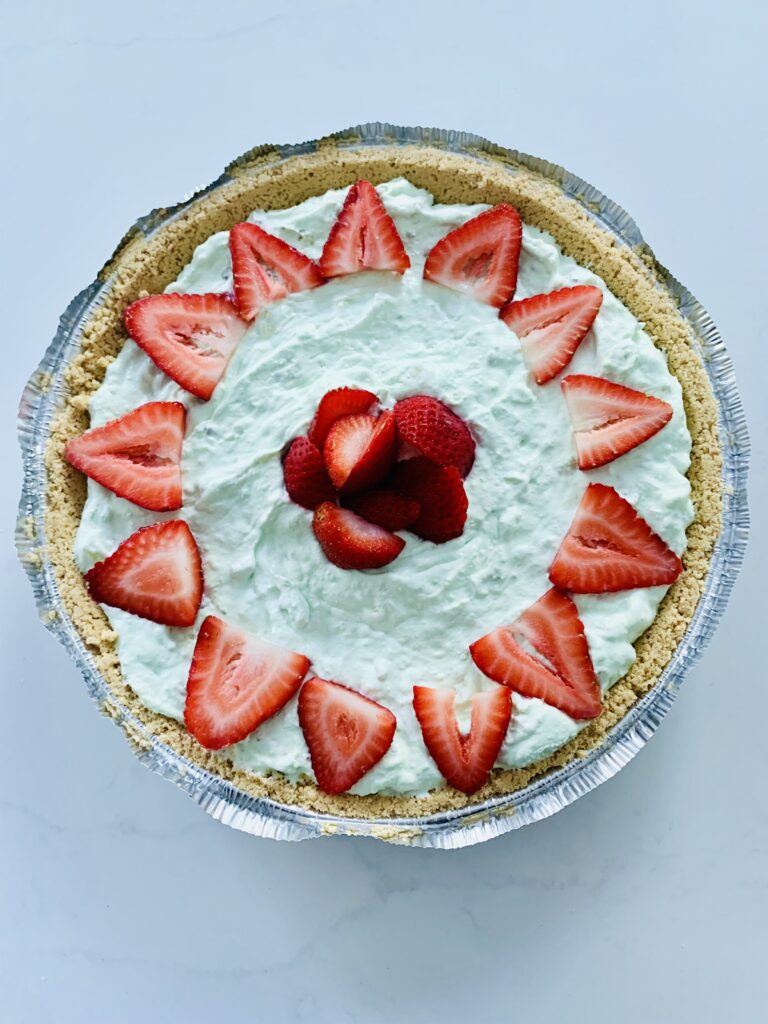 Be sure to show off your fancy strawberry-topped pie before slicing. It can get messy and may not look so pretty after cutting but, it tastes sooo good!
Have you ever had this pie before?
Let me know in the comments if you decide to make Penny's Pie.