Mom Bag Essentials
8 Things To Pack In Your Mom Bag
One thing teaching + motherhood has taught me, is the power of packing a good bag.
A cute bag with lots of pockets is a must.
It's not really about the bag itself, but what's in the bag that counts.
Motherhood will quickly teach you the importance of having the Mom Bag essentials.
I remember the girl's first doctor's appointment. She was so cute. Dressed in silver bowed ballet slippers, a lil' orange Carter's blazer, a headband bow with baby curls slicked to the side- baby girl was ready for her first doctor's appointment. When the doctor came in and told me to undress her, I had 3 outfit changes and nary blanket! Like how? I guess I took them out to fit all the cute, non-essential stuff. New Mom problems!
Babyhood blow-outs teach you how to pack an impeccable bag.
Toddlerhood teaches us how to prepare for anything!
But what about you?
What about your needs?
One thing, I wish I had realized sooner is . . . sometimes I need my own bag!
Not a work bag. Not a purse. But an actual Mom Bag.
A bag I pack just for me!
WHEN TO USE A MOM BAG
I don't carry this bag with me ALL the time. But my Mom Bag is perfect for waiting in car lines and extra-curricular activities.
I might even use my Mom Bag when I'm displaced around the house. Then I don't need to round my things up. Everything I want to be bothered with is right there in my bag. I don't have to hop up and hunt down that one thing.
Having one designated bag for the week or month, makes it easy for me to remember where to plop my items for later.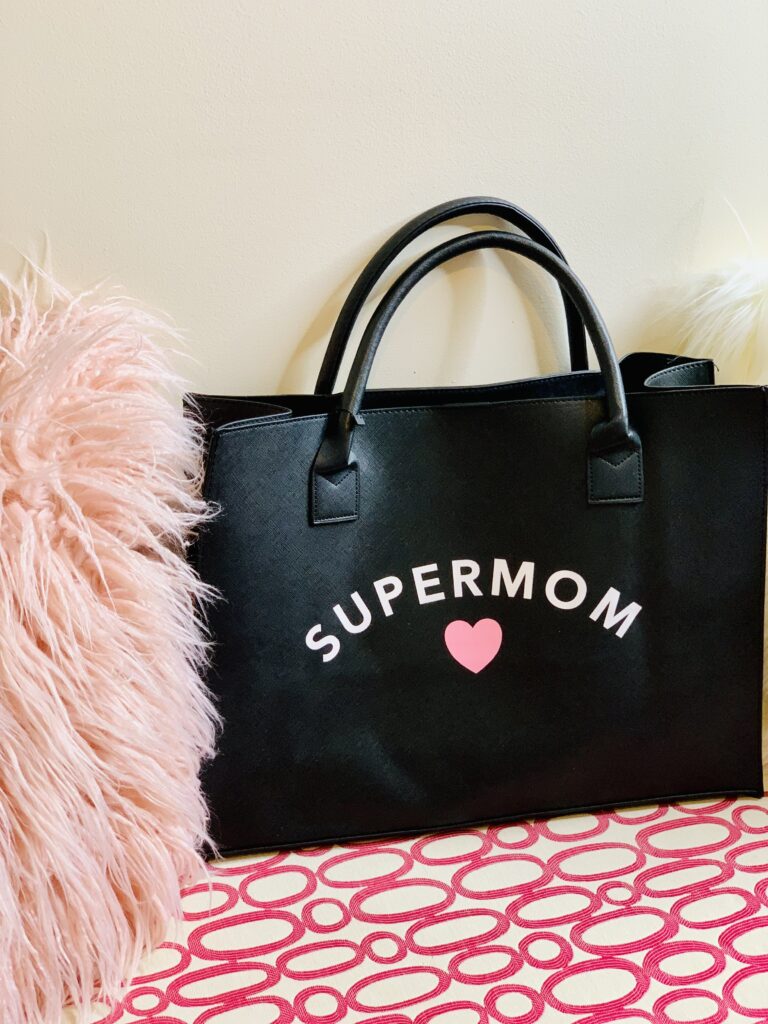 8 ESSENTIAL THINGS IN MY MOM BAG
By now you are probably wondering, what the heck is in my Mom Bag?
Here are my Mom Bag essentials:
Planner
Fave Gel Pens (Tul and Paper Mate Ink Joy)
Earbuds
Book/glasses
Post-It's (for my random thoughts)
Mom Snack
Magazines + Catalogs (All the cute things that come in the mail that I want to look at)
Clip Board (If I have mail or paperwork I need to tend to, I clip it to my clip board. It's like my traveling TO DO list.)
Notice, this bag does not have the child's items.
Have I convinced you to create your own Mom Bag yet?
Do you carry a Mom Bag? What are your Mom Bag essentials?