In order to get children to actually play with their toys, we must focus on the HOW.

Before you say, "Go Play!"
Take time show your children how to play with their toys.
How to play with toys?
Taking the time to show your children how to use and play with their toys when they first get them is time well spent.
This key step will:
Turn playtime into meaningful learning time.

When a child knows how to properly play with

their toys their depth of play increases. Their minds are focused and their imaginations can take over.
Minimize broken and lost toys.
Teach your child to respect and appreciate the toys they have.

How the toys are organized?
So you've gathered, organized, purged, and sorted the toys.
Maybe you even saved some money by shopping on a toy theme.
As the toy collection begins to grow, it is also important to consider:
Where will all the toys will go? Where does each toy live? The basement? Family room? Bedroom? Have a plan for where play experiences will happen? If you don't want to step on legos in the family room. Don't put them there. If you don't like playdough at your kitchen table, set up a craft table in the basement with and disposable table cloth.

Think it through.

How do you want the toys to be organized? How will you store or display the toys?

Look, nobody is inspired to play with a pile of junk. Lay it all out. Set it all up like a toy store display. Make the toys look enticing.
Can the child clean the toys up on their own? Are the things they love on a high shelf? Are the tiny pieces too low? Arrange your storage accordingly. We can't blame the kids for making a mess when it was never organized in the first place. (Sorry but that's the truth.)
What toys can be cycled in and out?

Everything doesn't have to stay out all the time. Why would you leave a bin of

puzzles out for a tiny person? Put the puzzles away until puzzle time. When puzzle time is over, teach the child how to take the puzzle apart and put the pieces back in the box and replace the lid. Return the puzzle to the bin. It's so simple it's hard, right? We assume children know how to do these simple tasks because they are capable. But just because your child is capable, doesn't mean they are able to each and every time out the gate. These are the skills we, the parents, must teach and reinforce until it becomes second nature.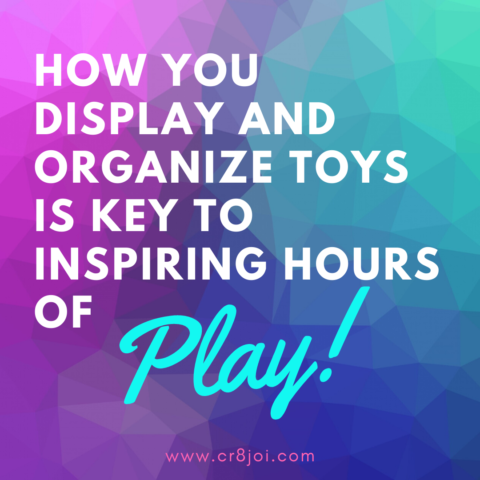 I challenge you to focus on the How's: How to play with toys? And, how the toys are organized?
I'm always sharing how we organize and re-organize the girl's toys over on my Instagram stories. Head over there if you are in need of more ideas and inspiration. In the meantime, I'd love to hear your take on this in the comments. Let me know if you try this.
How do you get your children to actually play with their toys?