I've already written and dedicated a children's book to my Dad, the Pop Pop. I was blessed to be able to share the book with him while he was still here.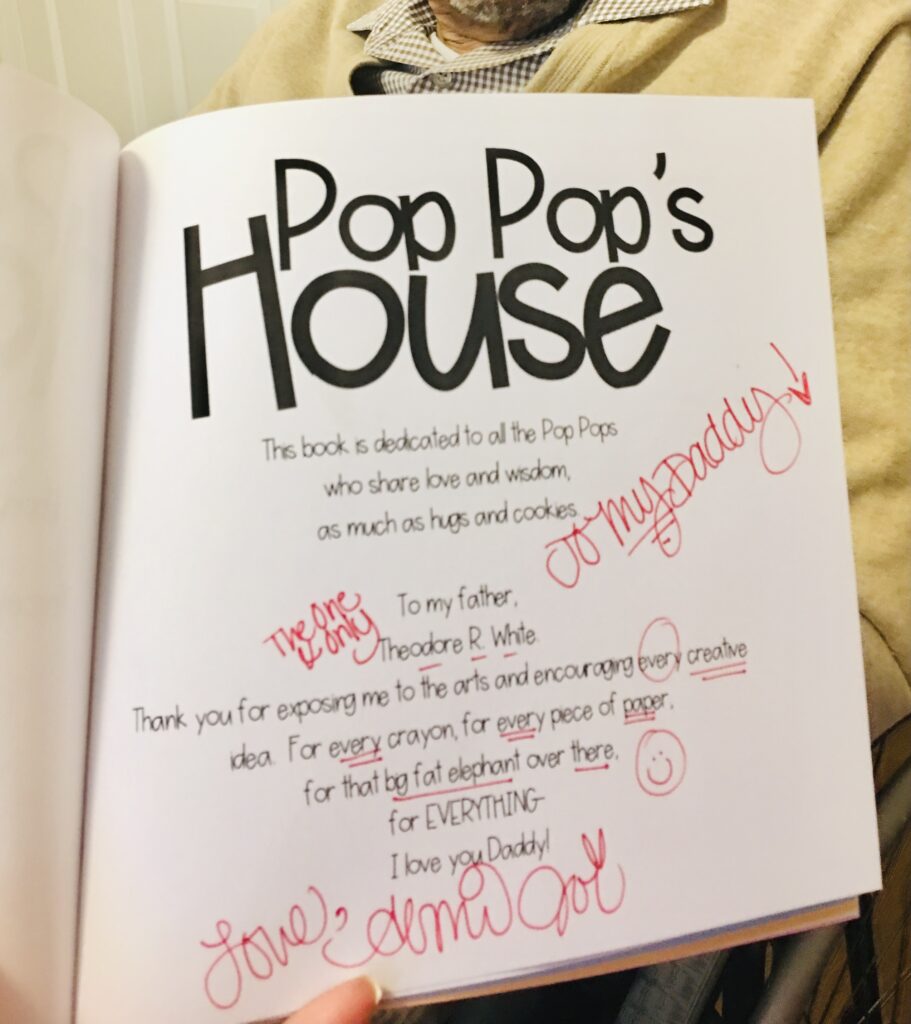 This post is dedicated to my Dad, the Daddy. His wisdom was universal and timeless.
My sister and I were talking one day and we had an epiphany.
"Daddy really knew what he was talking about!"
"I know right? He was onto something!"
We started naming all the goodness we have learned from Daddy. We were so blessed to have him as long as we did. Good things are meant for sharing; here is some of his timeless wisdom here:

Daddy's Wisdom| Things I Learned From My Daddy
Music: Play it loud! Be diverse!
Get lost! Watch old movies: Close the blinds. Be quiet. Pause the movie for restroom breaks. Play it super loud and be really quiet so you don't miss the details. Get lost in a storyline.
Tomorrow will have it's own set of problems. Take care of today's problems today.
If a check engine light comes on, go get it checked out by a mechanic within 24 hours.
Have a place for everything and put it back right away.
If the lightbulb goes out at the dinner table. Stop eating, and change the lightbulb. Warm your dinner back up when it's done. Lesson- Do not become complacent when things break. Take care of your things immediately.
Read the ENTIRE instruction manual for every purchase BEFORE you use it, even your car. You will know all the things your new purchase can do. You will also have troubleshooting tips in the back of your mind if something goes wrong.
Put your immediate family first. No need to entertain everybody all day and night.
Don't talk on the phone late, once you've wound down. The only calls to answer in the middle of the night are emergencies.
Travel. Save your money and take vacations to the hottest most exotic places. You will remember these vacations for the rest of your life.
Read; books, magazines, poetry.
The world is way bigger than you. Before you came and after you leave. Expose yourself to different perspectives.
Nothing good can happen at night. Stay home.
Only loan books and money you are willing to give away. It's unlikely you will ever get them back. Loan only what you are willing to give away.
Make your home full of what you need. There's nothing out here in these streets.
Tell your kids the rules and go on head and live your life. Give them boundaries and consequences when needed. But live your life.
Buy the good fruit.
Treat yourself. If it's time to indulge, then do it big.
Cash is king! Leave credit cards alone. Credit cards a trap. Use them only to build your credit IF you are responsible enough to pay them off monthly.
Save your money and live well below your means.
The last one is my favorite . . .
The only thing constant is change.
It's certainly been a change without Daddy. He was my constant.
Miss you Daddy.
{I finally decided to publish this post as a cathartic way to celebrate the first Father's Day without Daddy. I pray it helps you to #rememberlove.}